Whether you are remodeling your kitchen or designing it from scratch, a kitchen backsplash should be included if you want to give the room style and character. The kitchen backsplash is no longer considered just a practical element that protects walls from splashes and spills, but rather an important style element that can revive your kitchen. And because the kitchen backsplash provides form and function, it has become an essential component when transforming a tired kitchen.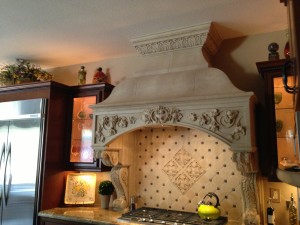 The backsplash can be customized to be low-key and subtle, just enough to bring the room together. Or it can be elaborately designed, allowing for the accent to be the kitchen's focal point. Whatever the design choice, the embellishment is certain to add taste and beauty to the room. However, the kitchen design trend seems to be leaning toward homeowners wanting to be unique and showcase their kitchen's wall area with a distinctive attention-getting backsplash that makes a statement. By choosing to decorate with a creative, customized, kitchen backsplash, homeowners can present their individuality and personality in addition to amping up their kitchen's aesthetic appeal. Not to mention, that by creating a focal point within the space consequently improves its visual appeal, which typically equates to a greater value of the home.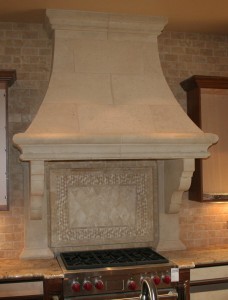 When deciding on the backsplash material, the stone is always a popular choice because it is elegant and timeless. Realm of Design's Eco-Friendly GreenStone may also be utilized within the kitchen's accent for those wanting to be "Green.". Realm of Design can help your kitchen reach its full potential by designing and creating an original customized kitchen backsplash that will not only reflect your personality and style but will reinvent your kitchen.
https://realmofdesign.com/wp-content/uploads/2013/10/Mary.jpeg
2448
3264
Carla
https://realmofdesign.com/wp-content/uploads/2018/12/logo.png
Carla
2013-10-15 22:33:38
2019-07-09 08:01:55
REINVENT YOUR KITCHEN WITH A BACKSPLASH