Your living room may not be quite an actual "Million Dollar Room," but there is no reason that space can't be made to look like one! It's nice to dream about having endless funds to remodel and/or decorate your home. But for most homeowners, reality doesn't quite allow that. So for those working within a budget wishing to transform their living room into a makeshift Million Dollar Room, the best place to start is by adding an essential key element–a divine fireplace.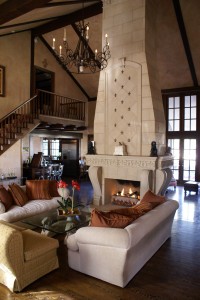 The fireplace is the focal point of a living room and can make or break the dwelling by setting the tone of the room. Being the area's main attraction, it is recommended that a fireplace mantel and surround should be custom designed to compliment the look and feel of the room while creating an elegant, rich statement. This will assure that your centerpiece becomes a stately showpiece. Once the fireplace surround and mantel are completed and if your budget permits, other architectural accents can be added to enhance the luxurious "Million Dollar Room" look. Architectural elements such as over-mantels, columns, molding, arches, beams and balustrades magnifies a room's splendor. Furthermore, embellishments including wall cartouches, sculptures and custom furniture contribute to refine the room's expensive look as well.

So even if you don't have a million bucks to spend on your living room, a few key pieces can certainly make it look like you did!

https://realmofdesign.com/wp-content/uploads/2013/08/IMG_4398.jpg
2336
3504
Carla
https://realmofdesign.com/wp-content/uploads/2018/12/logo.png
Carla
2013-08-13 20:45:35
2019-07-09 10:03:00
MAKE YOUR LIVING ROOM LOOK LIKE A MILLION DOLLAR ROOM